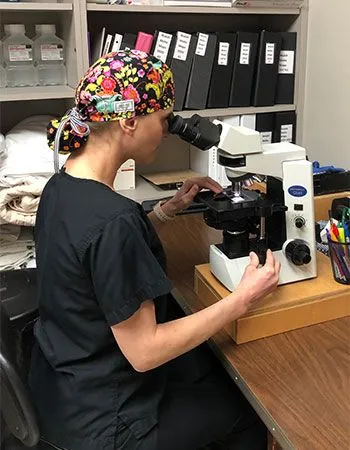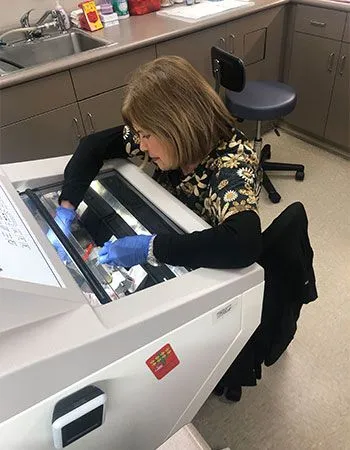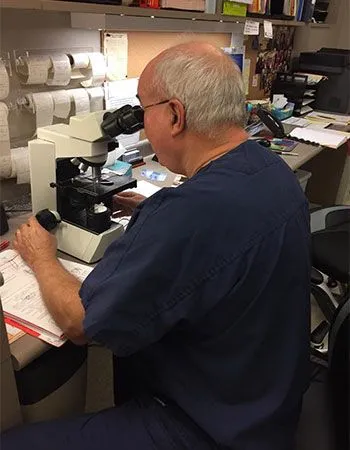 What is Mohs surgery?
Mohs micrographic surgery is an advanced surgical technique designed specifically for the removal of skin cancers. This technique was first developed by Dr. Frederic Mohs in the 1930s. The procedure is based on the principle of using a microscope to trace skin cancer roots so that the cancer may be completely removed. This technique has the highest cure rate for the most common types of skin cancer. Mohs surgery allows the entire skin cancer to be removed with the smallest possible defect, potentially resulting in less scarring at the site.
How is Mohs surgery performed?
The Mohs procedure is usually performed as an outpatient surgery in our office. You remain awake during Mohs surgery, and are given a local anesthetic to numb the surgical area. The use of local anesthesia instead of general anesthesia reduces recovery time and has fewer side effects.
Once the anesthesia has taken effect, the Mohs surgeon removes the visible skin cancer. The tissue that is removed is examined under a microscope by the Mohs surgeon to determine if there are any cancer cells remaining at the outer edges of the removed tissue. During this time, you remain in the surgical suite or office.
If cancer cells are still present at any edge of the removed tissue, the Mohs surgeon will continue to cut out additional layers of skin or underlying affected tissue until cancer cells are no longer seen. This technique allows for complete removal of the skin cancer while minimizing the removal of healthy skin.
Once the cancer has been removed, the Mohs surgeon will repair the wound. Depending on the size, shape and depth of the wound your Mohs surgeon will explain options for repair of the wound. Repair of the wound may include natural healing (granulation), stitching the wound together using a side-to-side closure, or using a skin flap or graft. In certain instances, you may be referred to another specialist for wound repair.
Why chose a fellowship trained Mohs surgeon?
Mohs micrographic surgery has set a new standard in skin cancer treatment. An increasing number of physicians are performing Mohs surgery, which is now widely accepted as the most effective treatment for most types of skin cancer. However, not all Mohs surgeons receive the same level of training as Alabama Dermatology Associates, fellowship trained Mohs surgeons. Our doctors have achieved the highest degree of Mohs surgery qualification by completing an American College of Mohs Surgery (ACMS) approved fellowship.
The ACMS was established by Dr. Frederic Mohs himself, and its fellowship training program is generally acknowledged as the benchmark in Mohs surgery training. Through an extensive application and interview process, only the most qualified physicians are selected by ACMS to participate in a fellowship program. Participants must undergo a rigorous 1 to 2-year training program subsequent to completing a residency in dermatology.
During fellowship training, our doctors studied and trained under the guidance of veteran Mohs College surgeons who have demonstrated expertise in Mohs surgery. A cornerstone of the ACMS fellowship training program is cultivating experience and judgment in each graduate. Since skin cancer occurs in a diversity of forms, degrees and locations, the program is set up to be thorough and stringent.
Fellowship trained doctors meet the following requirements in completing their ACMS fellowship:
Participated in a minimum of 500 Mohs surgery cases
Learned to accurately interpret slides of tissue samples removed during Mohs surgery
Performed a vast array of reconstructions, ranging from the simplest to the most complex, multi-step repairs
As ACMS graduates, our doctors acquired an uncommon level of exposure to complex skin cancer treatment, including everything from challenging tumor locations to rare tumor pathology and complex wound reconstruction. You can be confident that your Mohs surgeon at Alabama Dermatology Associates has the training and experience to achieve the best outcome from your skin cancer treatment.
VIDEO: