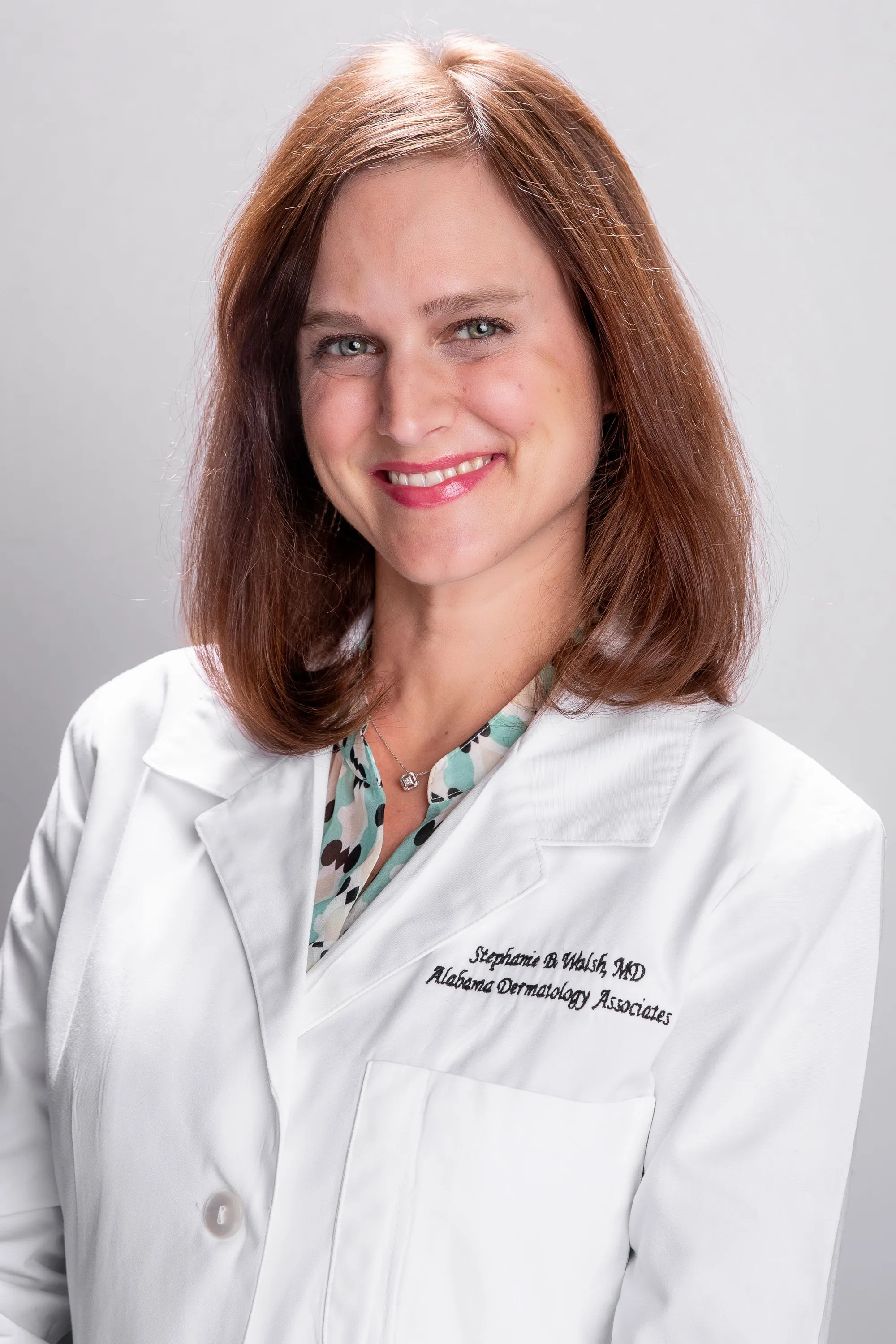 Board certified by the American Board of Dermatology, Member of the American College of Mohs Surgery
Dr. Walsh was born in New Orleans, Louisiana, and has lived in Alabama since 2001. She attended Vanderbilt University where she graduated Cum Laude with a Bachelor of Engineering in Biomedical Engineering. She received her Doctorate of Medicine from the University of Alabama at Birmingham (UAB), where she graduated at the top of her class.
Dr. Walsh completed her internship in Internal Medicine and her residency in Dermatology at UAB. She also performed a year of post-doctoral research studying the effects of immunosuppressant drugs on the growth of cutaneous squamous cell carcinoma. She previously worked as an Assistant Professor of Dermatology in the Department of Dermatology at UAB.
She has completed an American College of Mohs Surgery (ACMS) approved and ACGME-accredited Procedural Dermatology fellowship at UAB. During fellowship, she performed over 700 Mohs surgery cases and performed a vast array of reconstructions, including complex, multi-step repairs. She is a Fellow of the American Academy of Dermatology and a member of the American College of Mohs Surgery.
Outside of caring for her patients, she enjoys spending time with her husband and daughters, traveling, horseback riding and learning to play guitar.
Dr. Walsh is dedicated to delivering the highest quality of care to her patients. She is committed to providing her patients with the most current medical and surgical therapies in a compassionate and comfortable environment.
Patients can learn more about Mohs surgery, including what the Mohs procedure is, see the Mohs step-by-step process, and get answers to the most-asked questions about the procedure by visiting the American College of Mohs Surgery patient education website.
Services Performed:
General medical and surgical dermatology.
Mohs Surgery